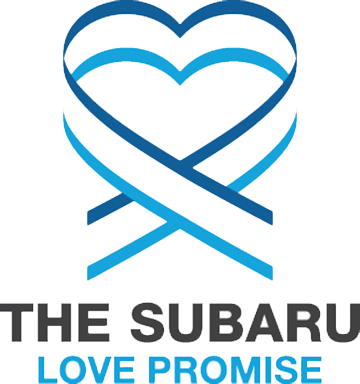 What is the Subaru Love Promise?
Subaru and our retailers believe in making the world a better place and the Subaru Love Promise is our vision of respecting all people. This is our commitment to show love and respect to our customers and to work to make a positive impact in the world.
How is Colonial Subaru dedicated locally to the Love Promise?
Our Love Promise can be seen in various partnerships with local charities and non-profits. We're grateful for the opportunity, not only to be a part of our community, but to serve it as well.
Love Promise Stories from Colonial Subaru
Subaru and Colonial Subaru believe in making a positive impact on the communities in which we live and work. We uphold that belief through our Love Promise Community Commitment. Every month, we select inspiring stories from customers and partners from around our area who strive to support our collective commitment and feature them here
Cheering for our local Cheerleaders - Erin S
Committed to serving the local community, Eric Stamps, president of Colonial Subaru in Feasterville, PA, made a donation to the Neshaminy High School cheerleading team to help support their fundraising efforts. The cheerleaders, their coach and parents were welcomed to the dealership where Eric presented the check and personally wished them success from "our team to yours", for the upcoming cheer season. The cheer squad enjoyed the dealership visit and was very appreciative of Eric's generosity. Cheers to Colonial Subaru for making a positive impact in the local community!
---
Volunteering at our local Senior Center - Erin S
In a continual effort to support the community, a group of Colonial Subaru employees volunteered their time to spruce up the landscaping around the perimeter of the Neshaminy Activity Center, our local senior center. The Colonial team spent the afternoon cleaning out the beds, weeding, mulching, and trimming the existing plants and shrubs, which helped beautify the exterior, making it more welcoming to those who visit the center. Robin, one of the people who runs the senior center, was so appreciative of the work completed by the volunteers. This is one example of Colonial Subaru working to make a positive impact in the community.
---
Helping Philly's Pets & the People Who Love Them - Lauren H
After an unprecedented year, PAWS wanted to give back to the local businesses who have been steadfast supporters our lifesaving work. With the help of our sponsors, Subaru of America and Annamaet Petfoods, we were able to raise vital funds for homeless pets in need while also celebrating our beloved community who has been through so much. Every spring we host an event called "Philly Loves PAWS" in which businesses throughout the city support PAWS by donating a percent of their day's profits. However, after the pandemic shutdown last year we realized that those businesses who supported us needed our help, so we decided to flip Philly Loves PAWS on its head by hosting a week long "PAWS Loves Philly" (PLP) event. Every day from May 17-23, we featured a group of PLP partners, totaling 64 businesses, and encouraged our followers to support them: by buying gift cards, shopping online, ordering food for pick-up or delivery, or even dining onsite safely. Businesses who were able, contributed raffle items, adding to the festivities and allowing us to raise additional funds. The event received a great response from businesses and PAWS friends alike! It was such a beautiful and touching week-long celebration and we are grateful to Subaru for enabling us to show the love! Through event promotion and the amplification of our story by supporters and businesses, we were able to engage new donors and advocates of our lifesaving mission, inform pet owners in need and prospective adopters/fosters about the resources and opportunities to help that we offer, and support and celebrate the small business community who has been so supportive of us over the years. THANK YOU SUBARU OF AMERICA FOR HELPING US MAKE PHILADELPHIA A PLACE WHERE EVERY SAVEABLE PET IS GUARANTEED A HOME!
---
Colonial Subaru Supporting Local Schools - Margie M
My name is Margie McCurdy and I am the Yearbook Director at Poquessing Middle School in Feasterville, PA each year our graduating 8th graders are provided a free yearbook, which is an exciting and cherished part of their "moving up to high school" festivities. Unfortunately, a few weeks ago I was informed that the source that normally provides the yearbooks would not be able to do so this year. To say the least I was heartbroken because I knew our 8th graders would be very disappointed. In desperation, I decided to send letters to local businesses explaining our situation and asking for assistance. With the current economic situation that has impacted everyone, I asked if they would be able to provide $60 to cover the cost of 4 books. I had hoped to get a reply from at least half of the businesses, but then I received a phone call that changed everything. Mr. Eric Stamps of Colonial Subaru Feasterville called, and we discussed the situations with our students. He said he wanted to help our 8th graders keep the "normal" in their lives. He has 4 children of his own and he knows how important "normal" is right now. Then he said "I will write you a check for $1800 to cover the cost" At first, I wasn't sure I heard correctly, but then he repeated himself. You could have knocked me over with a feather! I was literally speechless! This was not something I had expected. The kindness that Mr. Stamps had shown our students is overwhelming and certainly will not be forgotten. "Love is now bigger than ever" is a statement that means so much to Poquessing - and now we think of Colonial Subaru when we say it as they are now part of our family.
---
Celebrating 8 years of Share the Love - John E
KleinLife in Northeast Philadelphia wishes to extend our utmost gratitude to Colonial Subaru of Feasterville for their continued partnership for the 2020 Subaru Share the Love Event. This year marks our 8th Subaru Share the Love Event with Colonial Subaru, and their support could not have come at a more crucial time. To date, KleinLife's Home Delivered Meals program has been awarded over $45,000 in grant funding from the Subaru Share the Love Event and Meals on Wheels America partnership. Thanks to Colonial Subaru and the Subaru Share the Love Event, over the past eight years KleinLife has been able to provide 15,000 meals to 1,400 area older adults. Funding from this year and last year's Share the Love grants were crucial to our mission of providing nutritious meals to vulnerable older adults experiencing food insecurity during the pandemic. We are so grateful to Colonial Subaru's staff who were able to deliver meals to our residents in the Lower Bucks area – and for all of the Stuff the Trunks and emergency winter deliveries you have supported us with over the years. We couldn't do this without your continued support, Colonial Subaru!
---
Thank you! - Julie D
Thank you Colonial Subaru for your donation of 80 Blankets to Family Service. As a non-profit organization that provides a range of services to the Bucks County community, we depend on the generosity of our community members, like you, to deepen our impact. The blankets you donated will be given to clients in need throughout the winter as well as to residents at the Bucks County Emergency Homeless Shelter. We can't thank you enough for helping us provide warmth and comfort to families and children this winter.
---
Driving the Cold Away - Marcy B
For a second year Colonial Subaru of Feasterville PA has donated winter coats to the Living Stream Fellowship as part of their clothing ministry and Subaru Love promise. Coats were donated to local families in need. Colonial sales staff loaded an Outback full of coats and help volunteers at Living Stream Fellowship Organized their clothing drive. the coats were collected by the Auto Dealers CARing for kids foundation and distributed to local charities by participating dealerships.
---
MaST Loves Our STEM Books! - Phyllis S
MaST is focused on implementing STREAM Science, Technology, Robotics, Engineering, Arts, and Math into every content area and grade level, K-12. MaST has taken the STEM focal points and added both arts and robotics into something every student is exposed to along the course of their MaST educational roadmap. In fifth grade, STREAM subjects require the interpretation of technical texts, critical thinking, and the ability to clearly communicate verbally and in writing. All of these skills are developed through literacy based instruction. The books donated by Colonial Subaru are exceptional. By integrating literacy and STREAM, our students can become stronger readers while exploring topics of interest in STREAM. Thank you Colonial Subaru and Mr. Bill Seltzer for making this happen!
---
Colonial Subaru & Holy Redeemer Hospital - Meredith O
On June 26th the Eastern Pennsylvania Chapter and Colonial Subaru has the pleasure of delivering 80 blankets to Holy Redeemer Hospital as part of the Subaru Loves To Care program. These comforting gifts were accompanied by personalized messages of hope written by the customers and staff of Colonial Subaru.This incredible act of generosity was warmly received by the Holy Redeemer staff who were thrilled to distribute these comforting gifts to their patients. Many thanks to everyone at Colonial Subaru and Holy Redeemer Hospital, not only for a memorable day, but for supporting LLS's mission to cure blood cancers and improve the quality of life of patients and their families.
---
Big Brothers Big Sisters of Buck County - Hayley S
Colonial Subaru presented Big Brothers Big Sisters of Bucks County with a check from this year's "Share the Love" campaign. Colonial Subaru's "Share the Love" campaign Supports Big Brothers Big Sisters of Bucks County and presented them with a check in support of their programs. Colonial Subaru Sales Team exceeded expectations this year, and more than doubled our previous year record! Big Brothers Big Sisters of Bucks County (BBBSBC) has been serving Bucks County since 1963. Our rich history is built on a national heritage more than 100 years old. Big Brothers Big Sisters (BBBS) was founded for the sole purpose of enriching the lives of children and helping them achieve their full potential through professionally supported, one-to-one mentoring relationships. In Bucks County, Big Brothers was formed by a group of concerned educators from the Centennial School District, and Aid for Girls was established in 1971 by the Doylestown Branch of the American Association of University Women. Aid for Girls became Big Sisters in 1974, and Big Sisters and Big Brothers merged to become one organization in 1987. With over 50 years of service to Bucks County youth, our primary goal has remained unchanged: to provide quality volunteer and professional services, primarily through mentoring and leadership development, to make a positive difference to children and enable them to achieve their highest potential as they grow to become responsible adults.
---
Driving away the Cold - Riley P
Colonial Subaru of Feasterville PA donated winter coats to the Living Stream Fellowship as part of their clothing ministry and Subaru Share the Love. Coats were donated to local families in need. Colonial sales staff loaded a van full of coats and help volunteers at Living Stream Fellowship Organized their clothing drive.
---
Subaru and NWF Loves the Earth - Melissa K
Throughout the school year we focus on the core values of cooperation, assertion, responsibility, empathy, and self control. Students in our 3/4/5/6th grades helped with planting our garden and these 5 values were evident throughout the day. Students worked together for each step of the planting process. They were respectful towards each other and took great care to make sure plants were respected and handled gently. When Evan from Subaru arrive, they were so excited to add the habitat elements he brought for birds and critters. This year, our students have worked really hard to become earth stewards and this was a great culminating project to end the year! They are so excited to watch our garden grow and see what animals and insects it will add to our campus! Thank you so much for choosing us to participate in your program!
---
Share the Love with Simon's Fund - Eric S
FEASTERVILLE—Eric Stamps, President of Colonial Subaru at 200 West Street Road in Feasterville, selected Simon's Fund as the recipient for the Subaru Love Promise Share the Love. Stamps' dealership, in partnership with customers for the past year, donated $7,500 to the Philadelphia-based, national organization, which aims to save lives by preventing sudden cardiac arrest in children. "The Subaru Love Promise is a promise to do right by our community by partnering with nonprofit education, health, community, environment, and animal organizations - to set Subaru apart through our deeds and the deeds of our partners. To be unlike any other car company by doing what is right and good, just for the sake of doing it," said Eric Stamps, president of Colonial Subaru. "We are proud to be able to support Simon's Fund with this program and applaud Simon's Fund's efforts to check hearts and save lives." Subaru of America stays true to the Love Promise by partnering with a wide variety of nonprofits and charities. In addition to these partnerships, every year Subaru, car owners, and Subaru retailers join hands in the "Share the Love" event, giving back to charities across the country. Over the past 20 years, Subaru of America has donated over 50 million dollars and logged over 28,000 volunteer hours. All of the organizations that Subaru supports have one thing in common: the unwavering dedication to improve the world and the lives of its people.
---
Helping Out - John E
Colonial Subaru in Feasterville, PA, presented a check for RSVP Philadelphia's Home Delivered Meals Program to Sue Aistrop, director of community service and RSVP Philadelphia, prior to making a meal delivery to an area homebound senior who cannot shop or cook for themselves. The presentation and volunteer delivery were part of the month-long March For Meals celebration at KleinLife in Northeast Philadelphia. March For Meals calls the public's attention to the issues of senior hunger and the role volunteers of any age can play in addressing them. RSVP Philadelphia in coordination with KleinLife cooks, packages and delivers 90,000 home delivered meals annually to seniors in Philadelphia, Bucks and Montgomery Counties. RSVP Philadelphia is headquartered at KleinLife located at 10100 Jamison Avenue in Northeast Philadelphia and may be reached at 267-345-7787.
---
Subaru Loves Learning Book Drive August 1 - 31 - Danielle S
Join us in our Subaru Loves Learning initiative during the month of August! We are partnering with the American Association for the Advancement of Science (AAAS) in donating science books to Albert Schweitzer Elementary School in the Neshaminy School District. All of the books that will be donated have been recognized by AAAS as some of the best science books in their field. Contact us to learn more information.
---
Subaru Loves the Earth - E-Waste Event - Danielle S
We would like to thank our customers for participating in our E Waste Recycling event during the month of April. With your help, we were able to prevent 5,906 lbs of carbon emissions from polluting the atmosphere. This is equivalent to saving 227 trees, 1,005 gallons of gasoline, 8,562 plastic bottles, and 39,382 aluminum cans. Thank you for helping strengthen the Subaru Love Promise!
---
April 1-30, 2015 E-Waste Recycling Event - Molly M
Throughout the month of April, we are hosting an E-Waste Recycling Event in our store to collect unwanted electronics. We've arranged to work with a company who will responsibly collect, re-purpose, and recycle your electronic waste. Help us protect our environment. Just show up with your E-Waste and we'll do the rest! The first 50 customers who contribute will receive a complimentary environmental badge of ownership. We will accept: LCD Monitors, Cell Phones, Laptops, Tablets, CRTs up to 40, Video Games/Consoles, Fax Machines, DVD/VCR Players, Printers, Computer Peripherals, Switches/Routers, Cords and Wires.
---
Colonial Subaru Dealership Gives CSC Donation - Matt S
The Subaru Share the Love Program helps Children with Special Needs. Colonial Subaru proudly presented The Clinic for Special Children a check for $4,465 dollars collected during Subaru's Share the Love Campaign. Eric Stamps, President of Colonial Subaru presented the check to Matt Sware, of CSC. Work at the Clinic is focused on three major goals: 1. deliver effective and affordable diagnosis and comprehensive care for children with genetic conditions. 2. develop modern laboratory methods that serve the needs of patients and families 3. expand the capability for clinical studies, education, and training in genetic medicine.... The Clinic is situated in the heart of Lancaster County, nestled between two Amish farms in Strasburg. The Clinic's original timber frame building was "raised" in 1990 through generous contributions and volunteer community labor. An expansion was completed in 2001 to accommodate the growth of staff and services. Our staff includes three pediatric specialists and a PhD molecular geneticist. The Clinic operates as an independent, non-profit organization governed by a board of directors and supported through fees for services,proceeds from annual community-sponsored benefit auctions, and private contributions from individuals, organizations, and foundations. To learn more about The Clinic for Special Children go to : https://clinicforspecialchildren.org
---
Meals Delivered to Homebound Senior Citizens - Michael B
We are pleased to be able to participate in this great cause in our community. Our employees volunteer to deliver meals to Senior Citizens that are homebound, not able to get around, especially in inclement weather conditions.
---