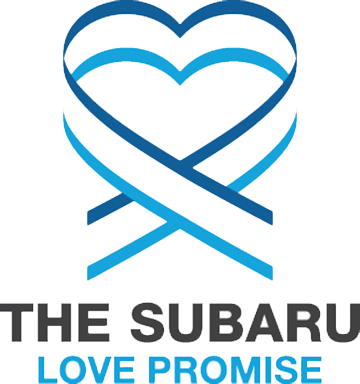 What is the Subaru Love Promise?
Subaru and our retailers believe in making the world a better place and the Subaru Love Promise is our vision of respecting all people. This is our commitment to show love and respect to our customers and to work to make a positive impact in the world.
How is Colonial Subaru dedicated locally to the Love Promise?
Our Love Promise can be seen in various partnerships with local charities and non-profits. We're grateful for the opportunity, not only to be a part of our community, but to serve it as well.
Love Promise Stories from Colonial Subaru
Subaru and Colonial Subaru believe in making a positive impact on the communities in which we live and work. We uphold that belief through our Love Promise Community Commitment. Every month, we select inspiring stories from customers and partners from around our area who strive to support our collective commitment and feature them here
Angel on a Leash - Erin S
In the month of September, Colonial Subaru, donated to an organization near and dear to our hearts. Angel on a Leash is an organization made up of volunteer men and women who bring in their trained dogs. They visit various facilities such as hospitals and nursing homes to bring smiles and joy to children, students, older people and anyone who needs a little lift in their day.
---
Cheering for our local Cheerleaders - Erin S
Committed to serving the local community, Eric Stamps, president of Colonial Subaru in Feasterville, PA, made a donation to the Neshaminy High School cheerleading team to help support their fundraising efforts. The cheerleaders, their coach and parents were welcomed to the dealership where Eric presented the check and personally wished them success from "our team to yours", for the upcoming cheer season. The cheer squad enjoyed the dealership visit and was very appreciative of Eric's generosity. Cheers to Colonial Subaru for making a positive impact in the local community!
---
Volunteering at our local Senior Center - Erin S
In a continual effort to support the community, a group of Colonial Subaru employees volunteered their time to spruce up the landscaping around the perimeter of the Neshaminy Activity Center, our local senior center. The Colonial team spent the afternoon cleaning out the beds, weeding, mulching, and trimming the existing plants and shrubs, which helped beautify the exterior, making it more welcoming to those who visit the center. Robin, one of the people who runs the senior center, was so appreciative of the work completed by the volunteers. This is one example of Colonial Subaru working to make a positive impact in the community.
---
Helping Philly's Pets & the People Who Love Them - Lauren H
After an unprecedented year, PAWS wanted to give back to the local businesses who have been steadfast supporters our lifesaving work. With the help of our sponsors, Subaru of America and Annamaet Petfoods, we were able to raise vital funds for homeless pets in need while also celebrating our beloved community who has been through so much. Every spring we host an event called "Philly Loves PAWS" in which businesses throughout the city support PAWS by donating a percent of their day's profits. However, after the pandemic shutdown last year we realized that those businesses who supported us needed our help, so we decided to flip Philly Loves PAWS on its head by hosting a week long "PAWS Loves Philly" (PLP) event. Every day from May 17-23, we featured a group of PLP partners, totaling 64 businesses, and encouraged our followers to support them: by buying gift cards, shopping online, ordering food for pick-up or delivery, or even dining onsite safely. Businesses who were able, contributed raffle items, adding to the festivities and allowing us to raise additional funds. The event received a great response from businesses and PAWS friends alike! It was such a beautiful and touching week-long celebration and we are grateful to Subaru for enabling us to show the love! Through event promotion and the amplification of our story by supporters and businesses, we were able to engage new donors and advocates of our lifesaving mission, inform pet owners in need and prospective adopters/fosters about the resources and opportunities to help that we offer, and support and celebrate the small business community who has been so supportive of us over the years. THANK YOU SUBARU OF AMERICA FOR HELPING US MAKE PHILADELPHIA A PLACE WHERE EVERY SAVEABLE PET IS GUARANTEED A HOME!
---
Colonial Subaru Supporting Local Schools - Margie M
My name is Margie McCurdy and I am the Yearbook Director at Poquessing Middle School in Feasterville, PA each year our graduating 8th graders are provided a free yearbook, which is an exciting and cherished part of their "moving up to high school" festivities. Unfortunately, a few weeks ago I was informed that the source that normally provides the yearbooks would not be able to do so this year. To say the least I was heartbroken because I knew our 8th graders would be very disappointed. In desperation, I decided to send letters to local businesses explaining our situation and asking for assistance. With the current economic situation that has impacted everyone, I asked if they would be able to provide $60 to cover the cost of 4 books. I had hoped to get a reply from at least half of the businesses, but then I received a phone call that changed everything. Mr. Eric Stamps of Colonial Subaru Feasterville called, and we discussed the situations with our students. He said he wanted to help our 8th graders keep the "normal" in their lives. He has 4 children of his own and he knows how important "normal" is right now. Then he said "I will write you a check for $1800 to cover the cost" At first, I wasn't sure I heard correctly, but then he repeated himself. You could have knocked me over with a feather! I was literally speechless! This was not something I had expected. The kindness that Mr. Stamps had shown our students is overwhelming and certainly will not be forgotten. "Love is now bigger than ever" is a statement that means so much to Poquessing - and now we think of Colonial Subaru when we say it as they are now part of our family.
---
Celebrating 8 years of Share the Love - John E
KleinLife in Northeast Philadelphia wishes to extend our utmost gratitude to Colonial Subaru of Feasterville for their continued partnership for the 2020 Subaru Share the Love Event. This year marks our 8th Subaru Share the Love Event with Colonial Subaru, and their support could not have come at a more crucial time. To date, KleinLife's Home Delivered Meals program has been awarded over $45,000 in grant funding from the Subaru Share the Love Event and Meals on Wheels America partnership. Thanks to Colonial Subaru and the Subaru Share the Love Event, over the past eight years KleinLife has been able to provide 15,000 meals to 1,400 area older adults. Funding from this year and last year's Share the Love grants were crucial to our mission of providing nutritious meals to vulnerable older adults experiencing food insecurity during the pandemic. We are so grateful to Colonial Subaru's staff who were able to deliver meals to our residents in the Lower Bucks area – and for all of the Stuff the Trunks and emergency winter deliveries you have supported us with over the years. We couldn't do this without your continued support, Colonial Subaru!
---
Thank you! - Julie D
Thank you Colonial Subaru for your donation of 80 Blankets to Family Service. As a non-profit organization that provides a range of services to the Bucks County community, we depend on the generosity of our community members, like you, to deepen our impact. The blankets you donated will be given to clients in need throughout the winter as well as to residents at the Bucks County Emergency Homeless Shelter. We can't thank you enough for helping us provide warmth and comfort to families and children this winter.
---
Driving the Cold Away - Marcy B
For a second year Colonial Subaru of Feasterville PA has donated winter coats to the Living Stream Fellowship as part of their clothing ministry and Subaru Love promise. Coats were donated to local families in need. Colonial sales staff loaded an Outback full of coats and help volunteers at Living Stream Fellowship Organized their clothing drive. the coats were collected by the Auto Dealers CARing for kids foundation and distributed to local charities by participating dealerships.
---
MaST Loves Our STEM Books! - Phyllis S
MaST is focused on implementing STREAM Science, Technology, Robotics, Engineering, Arts, and Math into every content area and grade level, K-12. MaST has taken the STEM focal points and added both arts and robotics into something every student is exposed to along the course of their MaST educational roadmap. In fifth grade, STREAM subjects require the interpretation of technical texts, critical thinking, and the ability to clearly communicate verbally and in writing. All of these skills are developed through literacy based instruction. The books donated by Colonial Subaru are exceptional. By integrating literacy and STREAM, our students can become stronger readers while exploring topics of interest in STREAM. Thank you Colonial Subaru and Mr. Bill Seltzer for making this happen!
---
Colonial Subaru & Holy Redeemer Hospital - Meredith O
On June 26th the Eastern Pennsylvania Chapter and Colonial Subaru has the pleasure of delivering 80 blankets to Holy Redeemer Hospital as part of the Subaru Loves To Care program. These comforting gifts were accompanied by personalized messages of hope written by the customers and staff of Colonial Subaru.This incredible act of generosity was warmly received by the Holy Redeemer staff who were thrilled to distribute these comforting gifts to their patients. Many thanks to everyone at Colonial Subaru and Holy Redeemer Hospital, not only for a memorable day, but for supporting LLS's mission to cure blood cancers and improve the quality of life of patients and their families.
---