The 2022 Subaru Love Promise Community Commitment Award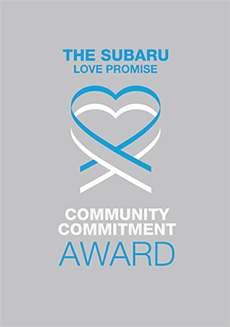 We've been nationally recognized for our dedication to our community and the Subaru Love Promise.
We're honored to receive the 2022 Subaru Love Promise Community Commitment Award. This award nationally recognizes Subaru retailers who are making the world a better place while demonstrating an outstanding commitment to supporting passions and causes in local communities. These efforts are focused in important areas such as the environment, community, health, education, and pets.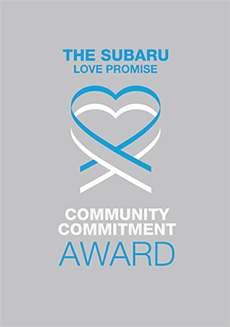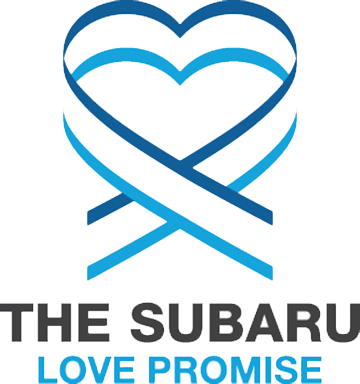 What is the Subaru Love Promise?
Subaru and our retailers believe in making the world a better place and the Subaru Love Promise is our vision of respecting all people. This is our commitment to show love and respect to our customers and to work to make a positive impact in the world.
How is Colonial Subaru dedicated locally to the Love Promise?
Our Love Promise can be seen in various partnerships with local charities and non-profits. We're grateful for the opportunity, not only to be a part of our community, but to serve it as well.
Love Promise Stories from Colonial Subaru
Subaru and Colonial Subaru believe in making a positive impact on the communities in which we live and work. We uphold that belief through our Love Promise Community Commitment. Every month, we select inspiring stories from customers and partners from around our area who strive to support our collective commitment and feature them here
Run, Walk, Roll for Brain Injury - Anne S
On April 30th, Colonial Subaru not only donated to the Brain Injury Association of Pennsylvania, but we got to volunteer at the Run, Walk, Roll for Brain Injury 5k. We were able to help this organization get runners, walkers, and rollers, all set up, signed up, and ready for the 5k. We got to meet some amazing people and really connect with our community through this outstanding organization.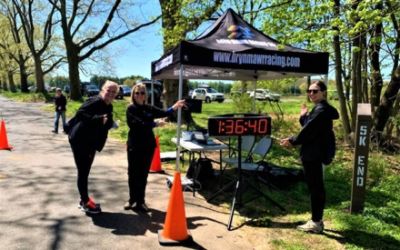 ---
Driving Away the Cold in Bucks County - Erin S
Colonial Subaru partnered with Family Service Association of Bucks County for the Subaru Loves to Help blanket donations. The Family Services Association helps the homeless, increase opportunities for adults, reduce substance abuse, protect seniors, improve the lives of those with HIV/AIDS and much more. Approximately 350 people are homeless in bucks county and more than one-third of these homeless people are children. With the blankets donated, we were able to help more homeless stay warm this winter time.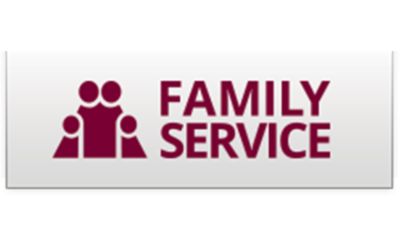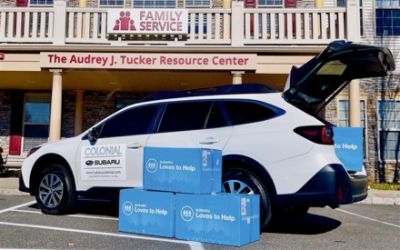 ---
Subaru shows the love! - ALISON F
Our Subaru retailer - Colonial Subaru - has been a wonderful supporter of Harley's Haven Dog Rescue. Not only do they share and promote our dogs that are available for adoption, they also help us in the local community by coming to a free pet food pantry and vaccine clinic we were part of in a very underserved area of Philadelphia. Drew Wilson and Erin Smith came to help at our last pantry/clinic in October 30th. They generously brought dog toys to hand out and they jumped right in to help distribute dog and cat food, collars, leashes, and more to pet owners in need.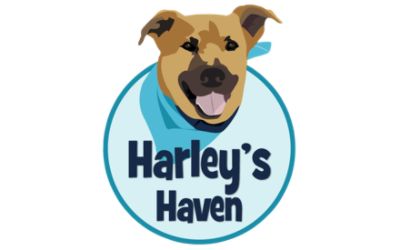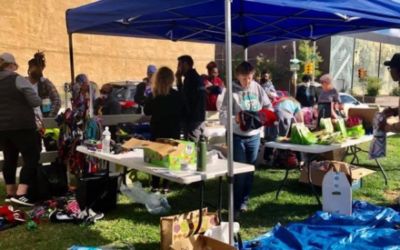 ---
Subaru Loves Pets Volunteer Day - Erin S
Colonial Subaru had partnered with Harley's Haven Dog Rescue for the Subaru Loves Pets. We volunteered with Harley's Haven to help give out the Subaru Outback dog toys and meet some pretty awesome dogs and their owners! In addition to handing out dog toys, the Colonial team drove to Philadelphia to help organize and hand out food, toys, leashes, and much more to the dog owners of the North Philadelphia region who came out in need for supplies for their dogs.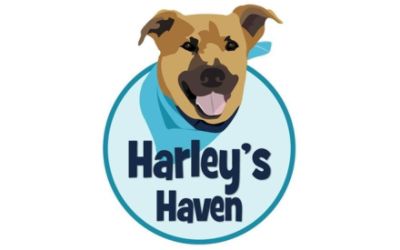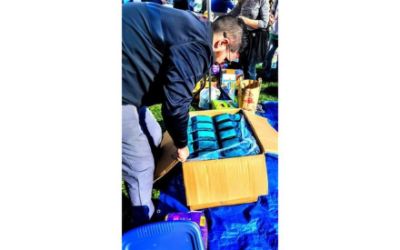 ---
Auto Dealers Coats For Kids - Erin S
Colonial Subaru partnered with our local Bucks County YWCA for the Auto Dealers Association "Coats for Kids" drive. The YWCA Bucks County is a non profit organization that provides housing services, and youth services programs to the community. This year we were able to donate 150 coats to kids in need.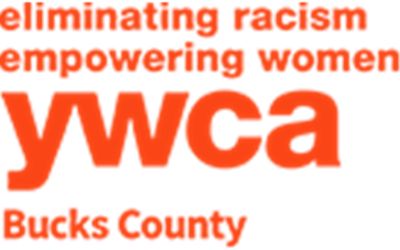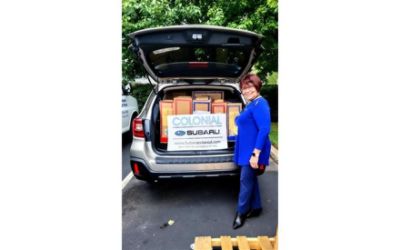 ---
Angel on a Leash - Erin S
In the month of September, Colonial Subaru, donated to an organization near and dear to our hearts. Angel on a Leash is an organization made up of volunteer men and women who bring in their trained dogs. They visit various facilities such as hospitals and nursing homes to bring smiles and joy to children, students, older people and anyone who needs a little lift in their day.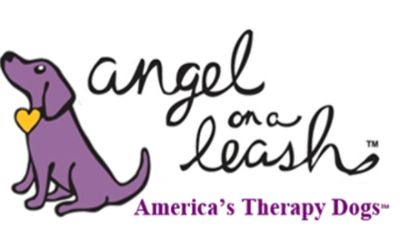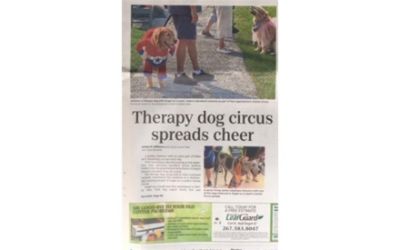 ---
Cheering for our local Cheerleaders - Erin S
Committed to serving the local community, Eric Stamps, president of Colonial Subaru in Feasterville, PA, made a donation to the Neshaminy High School cheerleading team to help support their fundraising efforts. The cheerleaders, their coach and parents were welcomed to the dealership where Eric presented the check and personally wished them success from "our team to yours", for the upcoming cheer season. The cheer squad enjoyed the dealership visit and was very appreciative of Eric's generosity. Cheers to Colonial Subaru for making a positive impact in the local community!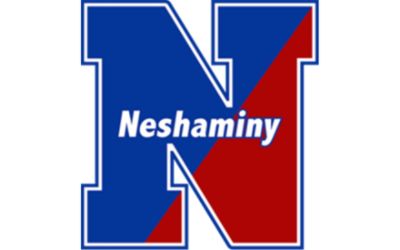 ---
Volunteering at our local Senior Center - Erin S
In a continual effort to support the community, a group of Colonial Subaru employees volunteered their time to spruce up the landscaping around the perimeter of the Neshaminy Activity Center, our local senior center. The Colonial team spent the afternoon cleaning out the beds, weeding, mulching, and trimming the existing plants and shrubs, which helped beautify the exterior, making it more welcoming to those who visit the center. Robin, one of the people who runs the senior center, was so appreciative of the work completed by the volunteers. This is one example of Colonial Subaru working to make a positive impact in the community.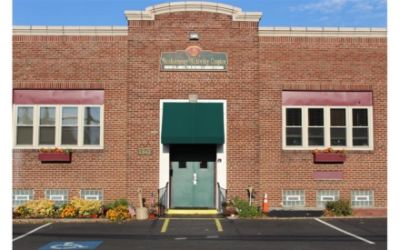 ---
Helping Philly's Pets & the People Who Love Them - Lauren H
After an unprecedented year, PAWS wanted to give back to the local businesses who have been steadfast supporters our lifesaving work. With the help of our sponsors, Subaru of America and Annamaet Petfoods, we were able to raise vital funds for homeless pets in need while also celebrating our beloved community who has been through so much. Every spring we host an event called "Philly Loves PAWS" in which businesses throughout the city support PAWS by donating a percent of their day's profits. However, after the pandemic shutdown last year we realized that those businesses who supported us needed our help, so we decided to flip Philly Loves PAWS on its head by hosting a week long "PAWS Loves Philly" (PLP) event. Every day from May 17-23, we featured a group of PLP partners, totaling 64 businesses, and encouraged our followers to support them: by buying gift cards, shopping online, ordering food for pick-up or delivery, or even dining onsite safely. Businesses who were able, contributed raffle items, adding to the festivities and allowing us to raise additional funds. The event received a great response from businesses and PAWS friends alike! It was such a beautiful and touching week-long celebration and we are grateful to Subaru for enabling us to show the love! Through event promotion and the amplification of our story by supporters and businesses, we were able to engage new donors and advocates of our lifesaving mission, inform pet owners in need and prospective adopters/fosters about the resources and opportunities to help that we offer, and support and celebrate the small business community who has been so supportive of us over the years. THANK YOU SUBARU OF AMERICA FOR HELPING US MAKE PHILADELPHIA A PLACE WHERE EVERY SAVEABLE PET IS GUARANTEED A HOME!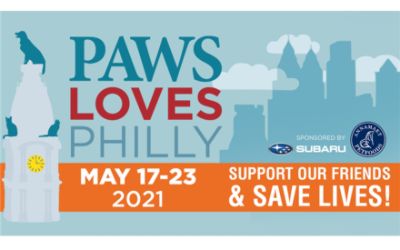 ---
Colonial Subaru Supporting Local Schools - Margie M
My name is Margie McCurdy and I am the Yearbook Director at Poquessing Middle School in Feasterville, PA each year our graduating 8th graders are provided a free yearbook, which is an exciting and cherished part of their "moving up to high school" festivities. Unfortunately, a few weeks ago I was informed that the source that normally provides the yearbooks would not be able to do so this year. To say the least I was heartbroken because I knew our 8th graders would be very disappointed. In desperation, I decided to send letters to local businesses explaining our situation and asking for assistance. With the current economic situation that has impacted everyone, I asked if they would be able to provide $60 to cover the cost of 4 books. I had hoped to get a reply from at least half of the businesses, but then I received a phone call that changed everything. Mr. Eric Stamps of Colonial Subaru Feasterville called, and we discussed the situations with our students. He said he wanted to help our 8th graders keep the "normal" in their lives. He has 4 children of his own and he knows how important "normal" is right now. Then he said "I will write you a check for $1800 to cover the cost" At first, I wasn't sure I heard correctly, but then he repeated himself. You could have knocked me over with a feather! I was literally speechless! This was not something I had expected. The kindness that Mr. Stamps had shown our students is overwhelming and certainly will not be forgotten. "Love is now bigger than ever" is a statement that means so much to Poquessing - and now we think of Colonial Subaru when we say it as they are now part of our family.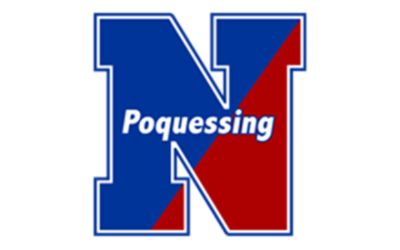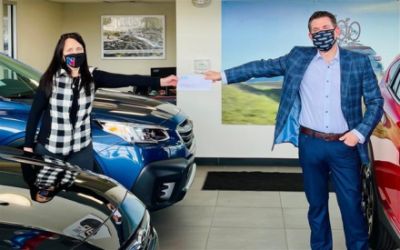 ---